MEET OUR TUTORS
Trish Akouka
General Science, Geography (High School), Geography (Elementary/Junior High), Zoology 2
I enjoy partnering with parents and tutoring students at SCCC!  It is a blessing to be a part of the student's learning process!  My goal is to make my classes FUN and encourage the love of learning.  
A little more about me: I grew up in Satellite Beach in the 70's and 80's. I  graduated from the University of Central Florida with a Bachelor's of Science Degree in Communicative Disorders.  I worked for several years in Rehabilitation Centers. I also became certified as a personal fitness trainer.  I enjoy living a healthy lifestyle and spending time at the beach.
I married my husband, David in 1996.  We have three sons.  After our first son was born, I became a full time wife and mom.  I also help my husband with his Personal Fitness Training Studio.
In 1994, I made the decision to start living my life for Jesus…each day, I try to be more like Him and LOVE others like He LOVES me 🙂
Julie Aldrich
Intro to Graphic Design
In 2003, I gave my life over to Jesus and have been faithfully serving Him ever since. I seek Him every day for the direction of my life. I hope to show His love to the students at SCCC as we create artistic designs. Also, my desire is for them to gain knowledge of graphic design while enjoying the experience of learning it.
I received formal instruction from The Art Institute of Pittsburgh, Pittsburgh, PA graduating with an associate degree in specialized technology, majoring in visual communication design in 1994. I carried various positions in the graphic arts world: Pre-print Color Technician/Designer, Production Artist, Graphic Artist, Prepress Technician. I ended my career as Production Supervisor in 2007 to start homeschooling my 9-year-old son and continued until he was 12 years of age.
In the years when I was raising my other two young children, I continued to do freelance jobs to keep up with the design software. From 2017-2019, I worked on staff at Calvary Chapel Merritt Island in the children's ministry, and also assisted with graphic design projects.
From 2021 to the present, my position as a graphic designer at Calvary Chapel Merritt Island became a more structured part-time position. I assist the assistant pastor in various design projects; t-shirt designs, conference and regular church service promotional pieces, web graphics, special service announcement pieces, weekly email announcements, church sanctuary slides, and youth graphics. It has been a great joy to serve the Lord in this capacity.
Kate Bosch
IEW Level A, IEW Level B
My name is Kate Bosch and I am excited to tutor the IEW writing classes at Co-op. I graduated from UCF with a Bachelor's Degree in Early Childhood Education and taught in the public school system for four years before staying home with my sons. We have been homeschooling for the last ten years,since my oldest was in preschool. 
My husband and I have been married for 16 years and have three sons. Our oldest is 14 and we have twins that are 11. We live beachside and spend a lot of time at the beach, the skatepark and especially the soccer fields. We love to go on adventures with our boys and experience the world around us together. 
I have always loved teaching and being a part of a child's learning experience. Literature and language arts are my favorite subjects to teach. For the last few years I have taught these IEW classes to multiple homeschool classes. Writing can be hard for kids, but it doesn't need to be! I am excited to help your students overcome the fear of not knowing what to write and in turn, helping them become confident writers! 
Jason Brown
Guitar 1, Worship Team/Guitar 2, Overview of the Bible: Old Testament & New Testament, Apologetics
Pastor Jason grew up in Long Beach, CA. He has been in full time ministry since 1996. He currently serves as the lead pastor at Suntree Grace church. Jason graduated from Grace College (Winona Lake, IN) and received his MDiv from Liberty Seminary in Lynchburg, VA.
He enjoys teaching through the Bible so that others can share in God's Truth. Jason has also been playing guitar, playing in bands and working with youth groups to create worship teams for nearly 20 years (and even had an album or two out in the 90's).
He loves surfing and hanging out with his wife Andrea along with their four children.
Angela Cook
Drama Theatre Arts, Psychology 
Angela is a former Brevard Public Schools Educator and was honored one year to be Cocoa Beach Jr./Sr. High School's Teacher of the Year. She holds a Bachelor of History from University of Central Florida, and maintains her Florida Professional Certificate in Social Sciences 6-12. After the prompting of the Holy Spirit and resigning from public education, Angela began the journey of homeschooling. Over the last decade plus she has tutored for a nationally known classical education program, maintained status as a substitute teacher for BPS, currently teaches IEW at a private homeschool program, and has her own four children, one who graduated in 2022, and three others following in the next few years. Besides educating over the years, Angela has enjoyed a little stage time at a local theater as a vocalist, she helps her husband pastor a small church by leading worship, and loves lattes, her family's two crazy chihuahuas, as well as her precious kids.Teaching Middle School and High School students is one of her favorite places to be.
Jenny Dixon
Saxon Math 7/6, Saxon Algebra 1/2 (Pre-Algebra), Saxon Algebra 1, Saxon Algebra 2
My name is Jenny Dixon and I will be tutoring the Saxon math classes.  I am the mother of two girls and have been homeschooling for 11 years.  I have a degree in Math Education from Oklahoma Christian University and I have worked with students of all ages from preschoolers to college students.  I have a passion for mathematics and my goal is to prepare students for upper level math classes and to lay the foundation for them to be successful in the STEM fields.  I look forward to working with you and your student to achieve their dreams.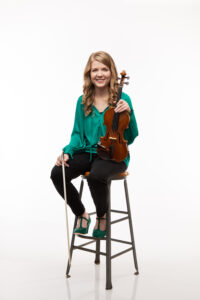 Sarah Dowell
Adventures in Violin, Violinists Unite!
A former homeschooler, Sarah graduated with a B. M. in violin performance from Grand Valley State University studying classical music under Dr. Gregory Maytan and Megan Crawford as well as jazz with Michael Drost.  Prior to that she received training under Carla Trynchuk, graduate of the Juilliard School of Music, and Erica Michaud, graduate of Andrews University.  In 2015, Sarah placed first in GVSU's Concerto Competition, soloing the first movement of Jean Sibelius' Concerto in D minor.  In 2016 and 2018, she premiered several new works composed for the GVSU New Music Ensemble National Parks Tours.  Sarah served in the Battle Creek Symphony and Holland Symphony Orchestra.  She currently shares music in a duo called Living By The Stream and is in the process of working on a second album of all original music with the group.  Sarah has taught students at her home studio and at various academies, including Ada Conservatory and The Piano Cottage.  At this time, she gives violin lessons at Gateway Academy of the Arts in Melbourne, FL.  Sarah incorporates classical, improvisation, fiddle, jazz, and other genres of interest to the aspiring student.    She knows how important it is to inspire and capture the interest of students and how important this love for creating and making music is within the Kingdom of God. 
Cathy Elliott
Advanced Literature,  English 1, English Literature 2, Pert/SAT Prep/Business English, Speech & Debate/Mock Trial
I tutor English, Literature, and Speech/Debate/Civics for the Co-op. My experience also includes the following:  homeschooler, tutor for 12 years, editor, published curriculum author,  Speech/Debate/Literature judge for county tournaments, and proofreader. I am happily married with three children, two currently in college. Overall, my passion is getting children interested in writing and reading, while they grow mentally and spiritually.
Sarah Fagan
Personal Finance
Sarah grew up in Illinois and graduated from Oral Roberts University with a bachelors in Elementary and Special education.  She moved to Merritt Island after college to work for a missions organization and ended up as a children's pastor at East Coast Christian Center. where she met and married her husband Jason.
After taking some time to travel the globe they returned back to Illinois where he received his degree in Business Management and became a financial advisor.  Sarah taught for a few years before joining her husband in personal finance.  In 2019 they returned to Merritt Island, her husband's hometown, to open their own financial office.  She has been blessed to homeschool her 3 children for the past ten years and serve in several homeschool communities as both a tutor and administrator.
Ashlee Finger
American Sign Language 1, American Sign Language 2
My name is Ashlee Finger, and I feel privileged to have been a part have this wonderful homeschool  community previously as a parent and now as an instructor.  While I consider myself very blessed to have lived in different parts of the country, I am a Florida native who first moved to the Space Coast area almost 35 years ago.  I am a homeschool graduate and feel very fortunate to have homeschooled my own daughter for eight years.  I attended Flagler College where I attained a  bachelor's degree in Elementary Education and a bachelor's  in Deaf / Hard-of-Hearing Education. Upon graduating from Flagler, I returned to Brevard County where I served as a lead instructor in both self-contained and integrated settings with deaf students for the Brevard County public school system. My responsibilities included planning, developing, delivering, and evaluating appropriate individual educational services, learning programs, and instruction for deaf and hard-of-hearing students as well as those with varying exceptionalities. I also worked as an itinerant teacher for the central part of the county where I had the privilege of working with a very diverse group of students with hearing loss.  My hope is that students studying American Sign Language will enjoy the beautiful language, and as they continue to learn that ASL will open up new possibilities as they are exposed to new communities, ideas, history, and a rich Deaf culture.
Tina Knight
Florida History (grades 5-8), Sewing & Home Economics, Yearbook
Tina, is a Florida Native, mother of 4, and has been homeschooling since 2000. Three of her children have graduated from local Christian co-ops. She joined a co-op in 2008 and stayed until it closed in 2019. She served on their leadership board for 11 years and  taught American history, Florida history, Kindergarten history and science, as well as supervised the yearbook. Her "boots on the grounds" experience has been beneficial in homeschooling her own children and helping others. Most of all, she loves Jesus and desires to seek and serve Him daily.
Lisa Liffrig
Economics, Physical Science, World History (High School), U.S. History (High School),
U.S. Government
Lisa Liffrig grew up on a farm in northern Minnesota and graduated from the University of North Dakota with a Bachelor of Science degree in Education.  She is certified in Early Childhood, Elementary Education and Middle School Math.  She taught in public school in Texas until she and her husband moved to Florida in 2002. Lisa has two daughters that were home schooled from elementary school through graduation and began teaching at the co-op in 2010.
Natalie Martin
Chemistry,  Physics, SAT Math Prep, Geometry, Precalculus
"I grew up in Fort Lauderdale, Florida. I graduated Summa Cum Laude from Tuskegee University with a Bachelor of Science degree in Electrical Engineering. I worked at Lucent Technologies for 8 years while attending Keller Graduate School part-time.
I decided to become a Domestic Engineer while working as a substitute teacher for Brevard Public Schools and Rockledge Christian School, as well as tutor in math for community programs.
I have been homeschooling my two children for the past six years.
My goal is to share my enthusiasm for learning and to show how God's glory is revealed in areas such as science and math."
Valorie Stanley
 Art Fundamentals, Intermediate/Advanced 2-D Art
My name is Valorie Leet Stanley and I grew up in nearby Cocoa, Florida, though I've been a Titusville resident since 1995. I have a Fine Arts and Photography background from USF and the Art Institute of Ft. Lauderdale, and homeschooled my two children, Mariah, now 30 yrs, and Brandon, 27, for 13 years before they began Titusville High.
I began teaching weekly Homeschool art classes for 45 students in 2000 when NBHSA started a "Friday School" for art, music, drama & Latin. I also began teaching weekly classes at Studio Plus, and now give lessons to over 100 children a week at Space Coast Christian Co-op, NBHSA, North Brevard Art League, and Green Circle Gallery in Cocoa Village. It is a joy and privilege beyond measure to teach and watch children of all ages grow in confidence and find a passion for creating artwork! I balance a need for fundamentals with inspiring children to enjoy the learning process and create work they are proud to show and share! I have many long-time students who work far beyond their years, and former students who have their art ed degrees, and are also teaching children!!
Layla Steensma
Biology, Marine Biology, Anatomy/Physiology, Health
Layla and her husband Johannes moved to the Space Coast from The Netherlands in the summer of 1999 while expecting their first child. She then made the decision that she would not enter the work force but instead would stay home and become a domestic engineer. Layla has been enjoying homeschooling her three children since 2012. Recently she had the pleasure to graduate her first born, who transitioned smoothly from MIT to FIT. Layla's education began at the University of Texas, where she studied pharmacy. She continued her studies in the field of medicine at the Katholieke Universiteit in Leuven, Belgium and then earned a Bio-mechanical Engineering degree at the Vrije Universiteit of Amsterdam. Layla specialized in spinal cord curvature with her thesis and publishing focused on force distribution in the spine.
Francisco Trujillo
Spanish 1, Spanish 2
My name is Francisco Trujillo. I was born in Cuba and my background in my country of origin was Medical Doctor, General Surgery Specialist. When I became a refugee and migrated to the United States in 1995, God changed my life forever when I repented and met Jesus as Lord and Savior. Since then, I have been His follower and He called me to be a Pastor in 2001. I have been in ministry for the last 20 years, always reaching the Hispanic community for His kingdom. Married to my wife since 1992, we have two sons, both born in the US and both serving the Lord in different ministries. We are so proud to say that they are the product of home schooling all the way. We are so passionate about promoting and helping the home school community in any way but teaching Spanish and other subjects has been what I enjoy the most.
Gina Zverev
American History (grades 5-8), Civics/Constitution (grades 5-8), Intro to Logic (grades 5-8), Study Skills
Gina earned her B.S. in Elementary Education from Loyola University Chicago and an M.A. in History from California State University, Fresno. She has taught middle school in the public school setting, history, in several community colleges, and in other homeschool co-ops. This is her ninth year homeschooling her daughters, which has been her favorite teaching experience, so far.